Insurance 101: Preventing a Data Breach
Winston-Salem, NC 3/6/2015
When it comes to data breaches, the risk for organizations is high, from the easily calculable costs of notification and business loss, to the less tangible effects on a company's brand and customer loyalty. Consider the numbers: Total breach costs have grown every year since 2006, and in 2012, data breaches cost companies an average of $234 per compromised record, up $20 or 10% from last year, according to the 2012 Ponemon study.
The upside for companies nationwide is that they can minimize their risk. To avoid what sometimes amounts to operational paralysis, organizational leaders need to follow some basic guidelines. In the following video, we share several proactive measures a business can take to prevent a data breach: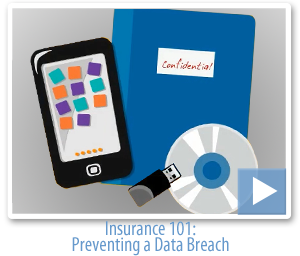 What Our Customers Say!
Dear Fletcher, I wanted to drop you a note to say what a pleasure it is to work with your team. Jennifer and Linda are terrific. I'm often faced with challenges when attempting to collaborate and coordinate with my service partners. That is never the case with Wilson Insurance. It is a relief and a calming thought to know I can count on you and your team for support. Thanks for the consideration. Don
Don Smith, Hayward Industries
Read what others have to say.
What's New
5 Types of Cyber Criminals and How to Protect Against Them
10/24/2018
Understanding the types of cyber criminals and their techniques can help protect your organization from a data breach. Here are some common threats and steps a business can take:
Read More »
Wilson Insurance Services Team!
What You Should Know About Rental Car Insurance
8/1/2018
There are some very serious contractual gaps in coverage for rental vehicles. Even if you purchase their Collision Damage or Physical/ Loss Damage Waivers, many rental car contracts exclude the following:
Theft of the Vehicle
Tolling, or Turning the Vehicle Over
Lease Gap coverage
Loss of Use
Glass, Tire and Undercarriage Damage
Animal Collision
Flood and Hail Damage
Damage above the Windshield
Individuals who rent personal vehicles for extended periods and do not have a Personal Auto policy in force
Drivers who rent, and do not own another vehicle insured elsewhere, need to be expecially careful here
Read More »